Buy handlebars freestyle scooter
The big difference between the individual handlebars lies in the material and diameter. Titanium, steel and aluminum differ greatly in weight and ride comfort. Normally, a handle bar has a diameter of 31.8mm. However, there are also so-called OS oversized bars of 34.9mm. When buying you should consider all other components such as Clamp, Compression and Fork. We supply T-bars and Y-bars in different sizes. Your height is crucial here, of course, your preference. A wide handlebar of +60cm. complicates under circumstances certain spins but gives more control at high speeds. Here you will find detailed tips and tricks for all handle bars. Maybe your new freestyle scooter handlebars that you just bought are too long. So that's no problem at all!
Freestyle Scooter Bars can be shortened without any problems. A good steel saw with a fresh and sharp steel or aluminum saw blade is ideal. In case of doubt, you can find a capable technician at any bike store who will be happy to shorten the respective handlebars with a frame cutter without any problems.
The absolute top class are the new Titanium T-Bar's. If you have never had such a high-quality handlebar in your hands, then pay attention! For example, the new Triad Riot Titanium T-Bar's give you the feeling that you never want to drive another handlebar. In the near future, you can expect more great freestyle Scooter bar news from the house SK here in the same place. We deliver all new bars as the first store, and our own (huge) warehouse guarantees a large stock of all new models. Currently we offer titanium bars between 174,95€ and maximum 229,95€. You can compare any Titan Bar to the best steel T-Bars.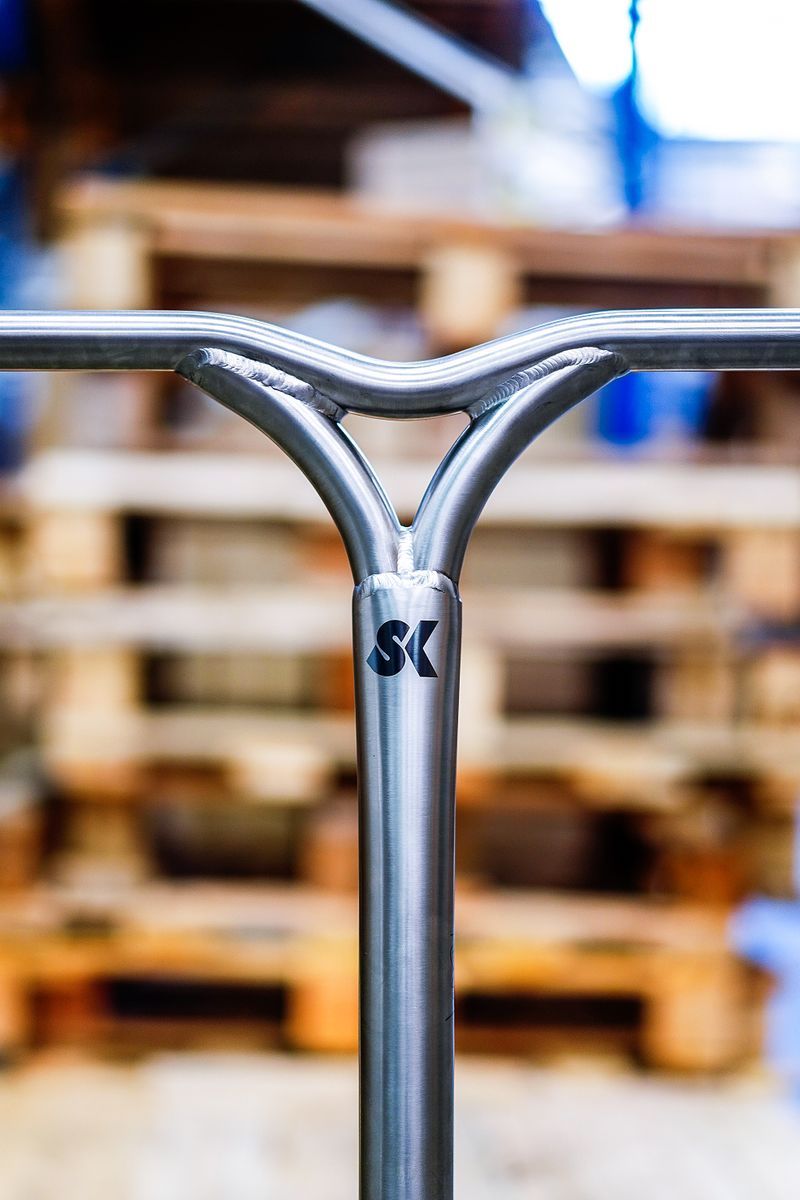 Freestyle Scooter Bar
We at the SK Shop sell high quality freestyle Scooter handlebars (bars) with which you are totally ready for all the skateparks and street spots. Here you will find one-piece handlebars at an unbeatable price. Whether you prefer a T-bar or a freestyle Scooter handlebar in Y-design, that's up to you. We offer plenty of choice to suit every taste. We supply bars for all compression systems with all common diameters.
Oversized bars - you buy with an outer diameter of 35mm (34.9mm) and an inner diameter of 28mm or 32mm. OS or oversized handlebars are compatible exclusively with oversized clamps. The OS freestyle Scooter bars in oversized with an inner diameter of 32mm are compatible with the compression system HIC. If you are looking for more detailed information on compatibility, then please read the corresponding part at our freestyle Scooter Bar Lexicon.
Brand new are the various filter options, so you can find your personal favorite handlebar even faster. Click here for an overview of all IHC compatible bars. And this way for all street freaks, the following search result shows you all extra large steel handlebars sorted by the best price possible. If you have any questions about the SK-Shop freeestyle Stunt Scooter Bars, our customer service, and especially our team riders always has an open ear. Do not hesitate and order today your new freestyle Trickscooter handlebar to build your own freestyle Scooter here at SK-Shop.
Warranty freestyle Bar
An important point beforehand - bars are wearing parts! Just like a skateboard, for example, a freestyle Scooter handlebar can break. Our team riders wear out various bars at every contest. As soon as you bounce badly and the handlebar lands hard on the ground, a hairline crack can occur. The forces that act on a bar are extreme. Sometimes a handlebar breaks on the first run! This is neither a material defect, neither a warranty case nor a reason that we refund you the purchase price. Speaking for itself, it may be with over 50x different handlebar models of various brands always try once that it is yet a defect in the material. Perhaps there was also a delivery damage or another reason. We are always happy to check whether it is a warranty or not in case of doubt.
Here below we share as an example the handlebar warranty conditions of one of the biggest freestyle Scooter brands from the scene.
ALUMINIUM BARS warranty conditions
The Aluminum handlebars come with a 30-day manufacturer's warranty. This covers the following:
Cracks in welds
Paint damage

The warranty does not apply:
If the handlebar has less than 40 mm of fork tube inside the handlebar.
If the handlebar is modified or shortened
Scratching or chipping of the paint
Misuse of your handlebars
Bending or cracking due to misuse or poor landing
Aluminum handlebars are a lightweight product for use by skilled riders. Incorrect landings, falls from any height or dropping damage the bars partly invisible and permanent. This is not covered by the warranty.
CHROMOLY STEEL BARS warranty conditions
Chromoly handlebars come with a 90-day manufacturer's warranty. This covers the following:
Bending or breaking of the handlebars.

It does not cover:
If the handlebar has less than 40mm of fork tube inside the handlebar.
If you modify or shorten the handlebars
Scratching or chipping of the paint
Misuse of the handlebar
Here you can go back to the overview with all freestyle Scooter Parts to build your own Stuntscooter. Here you will find the best deals and extra cheap freestyle Scooter Bars by the best brands.