Blunt ONE freestyle Scooter
After the success of the previous ONE S' series we didn't think the bar could be raised even higher, but once again our top brand Blunt has exceeded all our expectations.
The One S3 model sets a new standard for entry-level stunt scooters, bringing some of the most advanced components to the top of the range. Designed for younger riders aged 5-9, the Blunt One S3 offers everything you need to take your skating skills from amateur to professional in a skate park or street spot.
Built using some of the most advanced and durable stunt scooter parts we've ever seen on an entry-level scooter, the One S3 almost bridges the gap to the mid-range without the increased price. The 2021 S3 is the absolute tip for all young riders.
The One S3's 19" long and 7.75" wide aircraft aluminium deck provides the perfect blend of weight and strength, while still offering plenty of room for the growth of younger riders. The feet have enough freedom and space to safely practice the first real freestyle tricks.
The S3 ONE complete stunt scooter is built in a one-piece construction to increase strength and is made from 4130 chrome molybdenum steel. The footprint is 21.65" long and 20.5" wide, ideal for younger riders. As standard on all Blunt / Envy scooters, the ONE also features soft, durable TPR handles that match the colour scheme.
Following the scooter industry's move to larger, wider wheels, the One S3 with 110mm x 24mm metal core wheels is equipped with an outer surface of high quality 86A polyurethane to ensure a smooth, non-slip ride both in the skate park and on the road. Here at SK-Shop you will find a wide range of suitable 110mm reserve wheels.
With a height of 31.1", a length of 25.6" and a weight of less than 4kg. this scooter has exactly the height, length and weight a younger rider needs to master the basics and get to the next level. In addition, the One S3 is available in a range of 6 vibrant two-tone decors of which we are big fans!
Order your new 2021 Blunt One S3 freestyle scooter now here! The SK-Shop is Blunt brand partner Europe. If you have any open questions about the new ONE S3 scooters, we are always happy to help you.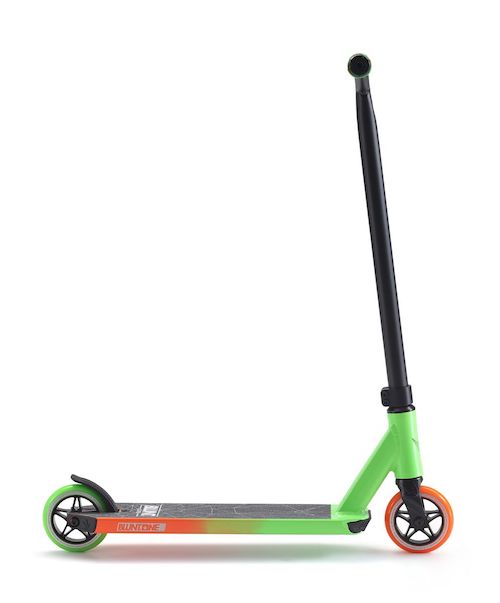 In addition to the release of the One S3 model, Blunt has also released a new colour palette for the best-selling Prodigy S8, suitable for advanced riders.
Of course we also have all the new Blunt Prodigy 2021 Series 8 models available here.